We're celebrating the launch of
Spy for a Spy
, sequel to
I, Spy
! Read on to get a cool spy tip for your daily life, free & discounted reads, and enter to win some great prizes! You can also find
Spy for a Spy
at the
special $3.99 launch discount
on
Amazon
,
Kobo
,
Barnes & Noble
and
JordanMcCollum.com
!
About the Book
Canada is probably the last place you'd expect to find an American spy. And
it was the last place CIA operative Talia Reynolds expected to run into fellow operative Brand Copley.
AKA her new boss.
AKA her ex-boyfriend.
Just the guy every woman wants to face in the middle of planning her wedding. Once again,
Talia's lying to the man she loves, but this time, to protect his heart.
After Brand takes over Talia's latest case and steals her newest agent, he assigns her to spy on her old boss—who's suddenly giving her every reason not to trust him. With only weeks until the big day, planning falls by the wayside as she goes into damage control mode. But
when Talia discovers Brand's real motives, fighting him is the only option, no matter what the personal and professional cost
.


I am a Jordan McCollum fan. I just can't help it. There might have been a little squee that escaped me when I was invited to sign on for this blog tour. Yeah, a little squee. I reviewed "I, Spy" awhile ago and a couple weeks ago I read the novella, "Mr. Nice Spy". There is just something about these spy books that have me hooked.
Talia is so flawed, so tortured. You want to simultaneously shake her and love her. Really her motivations are honorable- lying to protect the innocent (aka Danny). But keeping people in the dark in the name of love and protection isn't always the best and smartest idea. You would think Talia would have learned that by now, but no. She just keeps on making the same mistakes. Danny has the patience of a saint. Honestly. If we could only bottle that up and sell it. . . :)
"Spy for a Spy" had me so absorbed, flying through the book. I had to keep telling myself to slow it down, take it easy. I just couldn't help it. I felt like I was going crazy for half the book. Like Talia. The first person narrative really works for this book. It's so easy to get caught up in her head.
This book is clean (like squeeky)(no swearing, no sex) which I completely love. There are mentions of the main characters being LDS and some traits particular to the LDS faith (no drinking, no premarital sex) but there is nothing preachy at all. No religious discussions or anything of that nature.
Well, I'll end as I began. Coming full circle to this: I am a Jordan McCollum fan and I love this book series. I can't wait for the next book. I wonder if we'll ever get Talia and Danny against the world together? That would be completely awesome.
Excerpt
From chapter 12: CIA operative Talia Reynolds's ex-boyfriend/new boss, Brand, has assigned her to spy on her old boss, Will, who's allegedly betraying their country. Though Talia doesn't trust Brand, she has to take the assignment—especially once she realizes Will is trying to recruit her fiancé Danny to the CIA.
Parked outside Will's house three days later, I readjust my binoculars and slump a little lower in my car seat. It's dark, I'm in a car he won't recognize, and he should have no reason to worry, but I'm nothing if not careful.
Will's not nearly as cautious as I am. (Seriously, no one is.) No surveillance detection run on the way home, no meetings, no signals, no nothing. In fact, this has to be one of the most boring surveillance assignments I've ever done. Brand. Is. Wrong.
The garage door to Will's unremarkable stucco rambler rolls open and there's everyone's favorite CIA chief of station in a Mr. Rogers cardigan. Leaving for a meeting with an agent?
Will heads past his perfectly nondescript car: Canada's most common make, model, and even color — Honda, Civic, white. He's got a bag. I train my focus on that black garbage bag, less than half full. To anyone else, that's just trash. To me, it's something he doesn't want people to see. My pulse picks up a tick. This could be important.
Will reaches the passenger side of his car. Opens the door. Leans in. He'll stick the bag in there and drive off and betray everything he was ever supposed to stand for.
Or not. He straightens, pulls out a Tim Hortons sack and stuffs it in the trash bag. He deposits the garbage in the black plastic bin beside his house and goes back in.
No relief allowed yet. Could still be a drop off. A risky one, sure, but we're in Canada. How secretive would a double agent from a friendly foreign country have to be?
It's a long, long night until the lights go out at Will's. I wait until he has to be asleep, each minute ratcheting the muscles in my shoulders, my back, my legs tighter. Finally, I open the car door and prowl along the hedgerow to check the back. Lights off.
I move to the garbage can and ease the lid open. Of course the bag is way at the bottom. Grateful it's well after dark, I lower the can to the ground and crawl inside.
Yes, the real life of a spy puts James Bond movies to shame. Nonstop glamour. I drag the bag out and replace the trash can, hunkering down beside it to hide from the street. Normally, I'd take this and run (yes, I do this enough to have a "normally"), but I can't risk Will noticing. I hardly need my flashlight to see that this is an unremarkable, sadly lonely load of kitchen trash: microwave dinners, desserts for one, budget meals. I almost feel bad for our $150 tab this week, like he's been doing penance for his accounting gluttony.
Nothing incriminating here whatsoever. Okay, so Will's trying to recruit Danny to the CIA. Doesn't mean he's gone to the dark side.
Could I have fallen for Brand's strategy all along: put me on Will's trail to keep me off his? Everything he's been doing — all that talk about how I can't be impartial, the "apologies," those "genuine" gestures, siccing me on Will, if only for a few days — it's not just Brand being obnoxious. It's Brand being covert.
Yep, I'm an idiot. I reload the garbage bag, slip it back into the bin and head out.
I know what I have to do. I have to watch Brand, and I have to be extra careful to make sure he thinks everything's fine.
More about Spy for a Spy | Add Spy for a Spy to your Goodreads to-read list!
Hone your spy skills
Spy skills can come in handy in the most unusual situations, like this one . . . Further hone your spy skills by reading
Spy for a Spy
!
About the author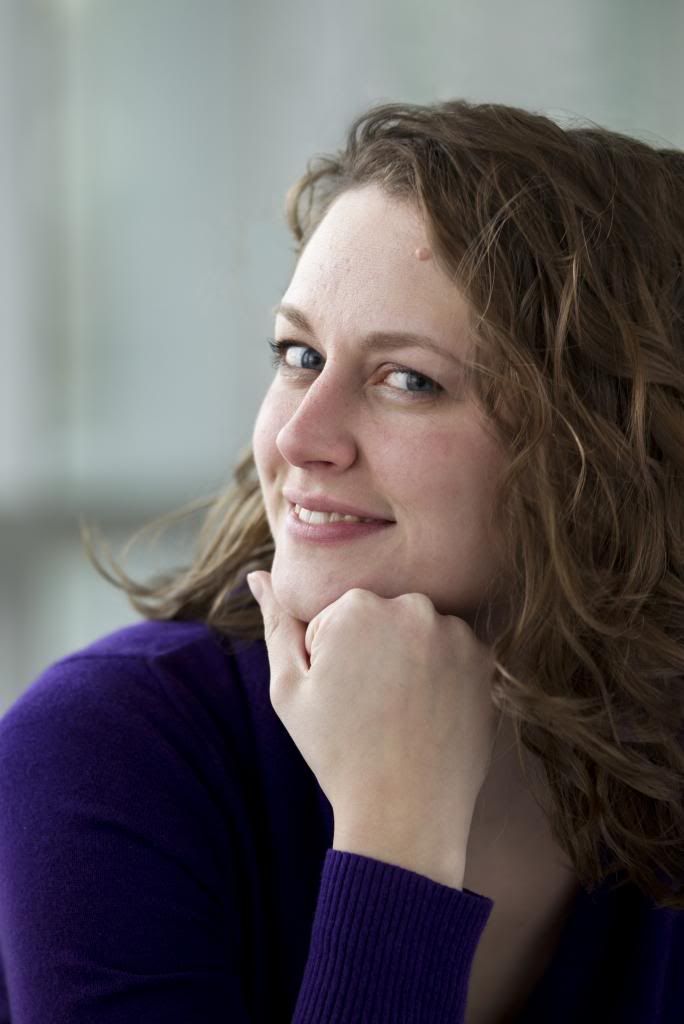 An award-winning author, Jordan McCollum can't resist a story where good defeats evil and true love conquers all. In her day job, she coerces people to do things they don't want to, elicits information and generally manipulates the people she loves most—she's a mom. Jordan holds a degree in American Studies and Linguistics from Brigham Young University. When she catches a spare minute, her hobbies include reading, knitting and music. She lives with her husband and four children in Utah.
Join the party & enter to win!
As part of the debut of
Spy for a Spy
, Jordan is co-hosting a launch party with Julie Coulter Bellon, author of
Pocket Full of Posies
.
Join us November 12 on Facebook
(
Jordan's
and
Julie's
pages)
and Twitter
(follow
Julie
and
Jordan
) for drawings throughout the day, and enter to win more fabulous prizes here!!
a Rafflecopter giveaway
Special deals!
Spy for a
Spy
is a sequel to the novel
I, Spy,
available for 99¢ at Amazon, Barnes & Noble and Jordan's site this week only!
To save her country and her secrets, CIA operative Talia Reynolds will have to sacrifice the man she loves. More about I, Spy.
Also, as a free gift this week,
Jordan is giving out free e-copies of a prequel novella, Mr. Nice Spy
,
on
Amazon
and
her site
!