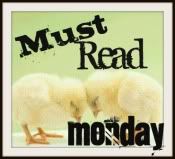 Must Read Monday is one of my favorite new things to do. I'm having such a good time. Even though every Monday I think,"Oh no, I'm going to have to use my brain this morning. Am I really up for this?!" :) I do love the challenge of making an acrostic puzzle and I especially love hopping around to see what my new friends have written. Such creative bloggers!
If you want to join in the fun, head over to
Fans of Fiction
and read up on the guidelines and sign right up!
This week's category: A book that made you laugh out loud.
My first response was "oh no." There really aren't many books that make me laugh out loud. I smile a lot, but laugh out loud? Not so much. I knew that this was going to be a hard one for me. I finally came up with this though. It's been awhile since I read this book but when I saw it, I remembered how funny I thought it was.
full of humAnoid chickens,
Zita the Spacegirl is a graphic novel by Ben Hatke. It is a fun for all ages kind of book. Here is the link to my review.